Student Activities and Involvement
As a member of the Dean College community you will have the opportunity to get involved through an array of clubs, organizations, leadership opportunities, community service opportunities and more.
Clubs, Organizations and Leadership
Dean College is a fun and vibrant campus community that offers a variety of student-run clubs, organizations and leadership opportunities. Click on the list below to learn more.
Academic clubs and activities at Dean College.
Arts and Entertainment Management Club
Business Club
Criminal Justice and Homeland Security Management Club
Dean Daily, Dean College newspaper
Dean News Network
Golden Key (invitation-only honor society)
Phi Theta Kappa (invitation-only honor society) 
Power 88 Radio (on-campus radio station) 
Psychology Club
Club sport/recreation activities at Dean College.
Badminton Club
Outdoor Recreation & Adventure Club (ORAC)
Student Athletic Advisory Committee (SAAC) 
Community service clubs and activities at Dean College.
Best Buddies (create friendships and opportunities for people in the community with intellectual and development disabilities) 
Dean Community Outreach (DCO)
Move-in Crew
Community Service at Dean College
Giving back to the local community is an important part of being a Dean College Bulldog.  Community engagement opportunities are another way that you can interact with faculty and staff outside of the classroom.  By participating in these opportunities, you will realize your ability to positively impact the lives of others.  
The Office of Orientation & Community Service sponsors projects planned both on and off-campus every month in conjunction with Dean Community Outreach (DCO), Dean's student-run community service group.  Projects range from stocking shelves at the Franklin Food Pantry to collecting pull tabs from cans for the Ronald McDonald House to volunteering at events in the town of Franklin.  Projects are open to all students, faculty and staff to actively participate in and are made known through a variety of ways throughout campus.
In addition to DCO, Dean College also sponsors a chapter of Best Buddies. The membership of this student-run group and DCO are open to all students.
Some of the service projects and locations that the Dean Community has worked with are:
UnitedHealthcare "Do Good. Live Well." Playground Build
Franklin Food Pantry
Blood Drives
Nason Street Park Clean-Up
Santa Foundation
Little Heart Hero Day with the American Heart Association
Walk to Defeat ALS with The ALS Association
If you are interested in being a part of any of our projects, please reach out to Jennifer Polimer, Director of Orientation, Community Service & Special Projects at jpolimer@dean.edu or 508-541-1596.
Dance and performance clubs and teams at Dean College.
Blackspeaks (audition required)
Dance Team (audition required)
Loose Screws (tap team, audition required)
Musical Theatre Troupe (audition required)
Not Your Forte (all inclusive acapella group)
Pom Team (audition required)
Speak Easies (improv group, audition required)
Step Team (audition required)
Synergy (hip-hop team, audition required)
Governance opportunities for students at Dean College.
Residence Student Association (RSA) (committed to making your residence halls a better place to live) 
Student Government Association (SGA) (application and election process required) 
Leadership opportunities for students at Dean College.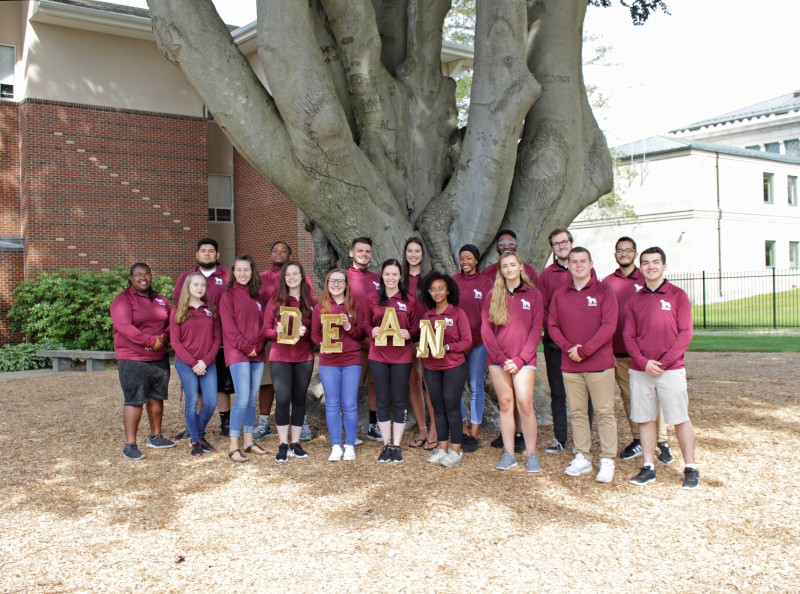 To learn more, visit our student leadership page.
Multicultural clubs at Dean College.
Black Student Union
International Student Association (ISA)
Jewish Community Club (JCC)
Spectrum (LGBTQ alliance)
WGAO 88.3 FM Radio Station (known to our students as Power 88) broadcasts commercial-free 24 hours a day from Dean College in Franklin, MA.
Under the direction of leading media professionals with decades of broadcast experience, students at Dean College take a hands-on approach to understanding and executing the day-to-day operations of a fully functioning 175-watt radio station. Playing key roles in operations as well as marketing, students have the opportunity to gain experience as on-air talent, program directors, producers and interactive media marketers. Heard locally and around the world via web streaming, Power 88 features advanced radio technology and equipment to ensure our students are prepared to enter the world of broadcast media.
Many students behind the mic or behind the scenes at Power 88 have gone on to amazing careers in broadcasting. Check out the Hall of Fame to see what everyone is up to!
Questions, Comments, Suggestions
If you are interested in learning more about any of the clubs and organizations or the programs mentioned above, stop by the Office of Student Activities & Leadership Development (Campus Center, Atrium).
Can't find what you're looking for? No problem! We can help you create a club that will appeal to the entire Dean community.