Explore digital audio, HD video, social media, broadcasting and more with a major in communications from Dean College.
In a changing media world, a communications degree from Dean College will set you apart. Here, you'll get the hands-on experience needed for a dynamic career in communications.
Program Overview
Communications boasts some of today's most compelling career paths. Whether you're interested in TV and radio broadcasting, sports broadcasting, multimedia production, station management, news writing, social media writing or another aspect of the field, a bachelor's degree from Dean College will set you up for success.
Through the course of study, you will be provided an opportunity to become immersed in a production-based program that stresses practical hands-on experience in the competitive field of communications. You will learn theoretical and production concepts while honing your skills in:
Digital audio
HD video
Website and social media
Sports broadcasting
Multimedia production
Content production
The program combines hands-on practice in multimedia production with in-depth study of the history, evolution and current state of mass communications. You'll learn in state-of-the-art TV and radio facilities with faculty who have a wealth of professional experience.
Beyond the Classroom
Practice what you're learning through fieldwork at local television and radio stations. Produce audio, video or social media projects for campus clients. Complete an internship with organizations like the New England Patriots, New England Revolution, or Providence Bruins. At Dean, you'll find plenty of opportunities to engage in real-world practice.
And when you graduate, you'll be ready to take on the world. Dean communications alumni find success in every area of the industry, including:
TV and radio broadcasting
Play-by-play sports broadcasting
Multimedia production
Station management
News and sports writing
Social media
Uniquely Dean
What makes our Communications program best of breed?
Enjoy access to a state-of-the-art video facility, three-camera television studio, and digital audio and video postproduction suites and editing rooms.
Practice your skills in digital media labs featuring industry-standard software such as Final Cut Pro and Pro Tools.
Gain experience on the air in WGAO 88.3 FM (Power 88), our Nielsen-rated, 175-watt stereo radio station.
Work at Dean's television station, Dean TV, as creators, segment producers, talent and crew to produce news, entertainment and sports programming.
Get practical, hands-on experience in performance-based courses starting in your first semester.
Primary engagement with The Center for Business, Entertainment and Sport Management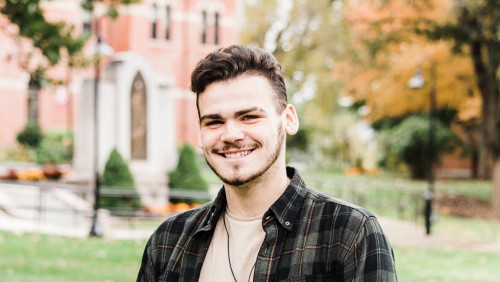 DEGREE OFFERINGS
Bachelor's Degree*
Associate Degree
*The course listing below is based on the Bachelor's Degree program. 
| Course Number | Course Title | Credits |
| --- | --- | --- |
| COM 121 | Introduction to Communications | 3 |
| COM 122 | Digital Audio Production l | 3 |
| COM 123 | Digital Video Production l | 3 |
| COM 124 | Web Design and Social Media Production l | 3 |
| COM 211 | Media Writing | 3 |
| COM 217 | Sports and Entertainment Media | 3 |
| COM 223 | Digital Video Production ll | 4 |
| COM 225 | Digital Audio Production ll | 3 |
| COM 495 | Senior Capstone | 3 |
| DCA 100 | Campus Connections: Making the Transition | 1 |
| DCA 110 | Career Connections: Developing Your Brand | 1 |
| DCA 200 | Internship Connections: Creating Your Plan | 1 |
| DCA 300 | The Internship Experience | 3 |
| COM 112, COM 115, COM 116, COM 312, COM 315, OR COM 335 | Dean Radio or Dean TV | 7 |
| DCA 350 | Future Connections: Launching Your Career | 3 |
| UPPER-DIVISION MAJOR ELE | Upper-Division Communications Electives | 12 |
| Course Number | Course Title | Credits |
| --- | --- | --- |
| ENG 111 | Composition l | 3 |
| ENG 112 | Composition ll | 3 |
| SPC 101 | Communication Fundamentals | 3 |
| MATH ELECTIVE | Core Mathematics Elective | 3 |
| LAB SCIENCE ELECTIVE | Core Lab Science Elective | 4 |
| ARTS ELECTIVE | Core Distribution Arts Elective | 3 |
| NATURAL SCIENCES AND MATH ELECTIVE | Core Distribution Natural Sciences and Mathematics Elective | 3 |
| HUMANITIES ELECTIVE | Core Distribution Humanities Elective | 3 |
| SOCIAL SCIENCES ELECTIVE | Core Distribution Social Sciences Elective | 3 |
| COM 327 | Applied Professional Communication | 3 |
| UDLA ELE | Upper-Division Liberal Arts Electives | 9 |
| Course Number | Course Title | Credits |
| --- | --- | --- |
| ELE | Electives | 24 |