Dean Leadership Institute
Throughout your time at Dean you will have numerous opportunities to interact with today's business leaders through the Dean Leadership Institute.
About Dean Leadership Institute
Offering a unique opportunity for students, alumni and the local community to interact with today's leaders, the Dean Leadership Institute is composed of two programs: the Executive Lecture Series and Leadership in Action Series.
Executive Lecture Series
Featuring an unprecedented list of national business leaders including four ranked in the Boston Business Journal's 2012 'Power 50' list of Boston-area influencers, this is the signature event for the Dean Leadership Institute. The event includes a dinner with students and sponsors and culminates with an evening lecture to the general public, business and community leaders.
2019 Executive Lecture Speaker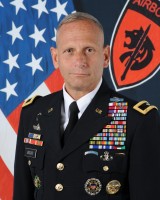 March 20, 2019 – Brigadier General Donald C. Bolduc '86 | US Army, Retired
Past Speakers
2018 - Michael Spillane, President, Nike
2017 - Angela McKay, Director, Microsoft
2016 - Jonathan Kraft, President, The Kraft Group
2015 - Jerry Sargent, President, Citizens Bank, Massachusetts
2014 - Bianca de la Garza, Newscaster, WCVB Channel 5
2013 - Bert Jacobs, Chief Executive Optimist, Life is good
2012 - Robert K. Kraft, Founder/Chairman and CEO, The Kraft Group
2011 - John Remondi, President and CEO, Sallie Mae
2010 - James Roosevelt, Jr., President and CEO, Tufts Health Plan
2009 - Ralph de la Torre, M.D., President and CEO, Caritas Christi Health Care
2008 - Anne M. Finucane, Chief Marketing Officer, Bank of America
2007 - William D. Green '74, Chairman and CEO, Accenture
2006 - Alan J. Bernon, President and CEO, Dean Foods Company
Leadership in Action
Featuring multiple presentations throughout each semester, this highly successful series offers Dean College students an exclusive opportunity to hear and interact with regional business leaders to learn more about what made them successful and gain valuable insights and contacts to help them launch their own careers.
2019 Spring Semester Speakers
Joanne Flaminio, President, Boston Athletic Association
Maria Itati Moguilner, Supervisor, Logan International Airport
Michelle Drolet, CEO, Towerwall
*All presentations listed above will take place at 8:00 AM in the Wasserstrom Room of the Dining Center.
Sponsorship Opportunities
For more information, including sponsorship opportunities, please contact our Department of Institutional Advancement at 508-541-1664.